At the start of Year 2014, I started with an article on how Filipinos can start the year by Investing for their future. I wrote BDO UITF Easy Investment Plan.
However, After few months, I received alot of feedback from readers that when they visited their nearest BDO Branch and asked for BDO EIP/UITF, most of the representative offered Insurance instead of explaining what is BDO EIP and how this product works.
Very disappointing because BDO UITF product is so good yet their people are not educated on how good it is and how Filipinos will benefit and have a good start in investing.
On this article, My goal is to provide another product that will help you maximize the potential of your hard earned money. OFWs, in particular, should pay attention to this because they can open an account even if they work overseas. No need to visit Philippines and apply personally like what BDO UITF Easy Investment Plan require.
Interesting Article:
Disclaimer: PhilEquity didn't pay me to write this. I'm simply sharing my experience from this product and how it might help you maximize the potential of your money.
Who is PhilEquity?
Philequity Management, Inc. (PEMI) is an investment management company established in 1994. They are committed to helping you achieve your long-term financial objectives by offering an array of mutual funds suited to your unique needs.
What is Mutual Fund?
An investment vehicle that is made up of a pool of funds collected from many investors for the purpose of investing in securities such as stocks, bonds, money market instruments and similar assets.
What are the Types of Mutual Funds?
1. Money Market Funds
– This is ideal for investors looking to utilize their surplus funds in short term instruments while awaiting better options. These schemes invest in short-term debt instruments and seek to provide reasonable returns for the investors.
2. Bond Funds
– Bond funds are likely to pay higher returns than certificates of deposit and money market investments, but bond funds aren't without risk. Because there are many
different types of bonds, bond funds can vary dramatically depending on where they invest.
3. Balanced Funds
– This scheme allows investors to enjoy growth and income at regular intervals. Funds are invested in both equities and fixed income securities; the proportion is pre-determined and disclosed in the scheme related offer document. These are ideal for the cautiously aggressive investors.
4.
Equity Funds
– Equities are a popular mutual fund category amongst retail investors. Although it could be a high-risk investment in the short term, investors can expect capital appreciation in the long run. If you are at your prime earning stage and looking for long-term benefits, growth schemes could be an ideal investment.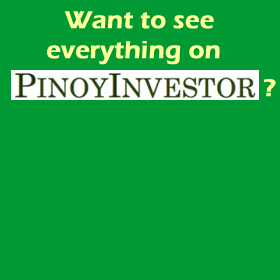 What PhilEquity Fund do you Recommend?
I recommend Philequity Fund, Inc (PEFI) and Philequity Dividend Yield Fund, Inc. (PDYF).
Philequity Fund, Inc. (PEFI) Compounded Annual Growth Rate (CAGR, %) as of September 16, 2014:
10 years 20.43%
5 years 24.66%
3 years 20.45%
Philequity Dividend Yield Fund, Inc. (PDYF) Calendar Year Returns as of September 16, 2014:

Returns 2014 YTD
PDYF 29.17%
Note: You can now Invest in any Mutual Fund via COL Financial. To Open an Account, Follow the Steps here:
How You Can Invest in Philippine Stock Market thru COL Financial
* * * * * * * * * *
*
If you still like to invest directly with Philequity, you can continue following the steps below:
How to Open a Mutual Fund Account with PhilEquity?
FOR INITIAL INVESTMENTS
Step 1:
Step 2:
Accomplish and submit the following account opening documents based on your account type:
For Individual/Joint
One (1) Valid ID with signature of each investor
Additional requirements for In-Trust-For (ITF):
Birth Certificate of beneficiary
One (1) valid ID of beneficiary
Step 3:
The Minimum Initial Investment for Philequity Fund Inc. is Php 5,000.00 pesos.
Invest through the following mode of investment:
3.1 Check — indicate name of the fund (i.e. "Philequity Fund, Inc.") in the "Payable to" portion
3.2 Deposit directly to any of our accredited bank accounts:
Important:
For investments in US dollar or to Philequity Dollar Income Fund we recommend transacting your deposit with Unionbank since their US Dollar cash deposit is not subject to clearing.
Step 4:
After you filled up the downloaded form, scan it and send it back to Phil Equity via email for review. Also incude a copy of your deposit receipt/check/Proof of Remittance.
Send Email To:
invest@philequity.net
Step 5:
You will received a feedback from PhilEquity that your document and requirements is validated. You now need to send the original documents via Registered Mail.
Philequity Management, Inc.
2005 East Tower, Philippine Stock Exchange Centre
Exchange Road, Ortigas Center, Pasig City, Philippines


That's it!
Few days after they received your documents, they will notify you via email with a Confirmation Notice for your Initial Investment.
CONGRATULATION!
You just took the first step in preparing for a better future.
Mag-Invest Ka Pinoy

is an IT Professional working in Singapore. He is an advocate of Financial Literacy in the Philippines. He founded Mag-Invest Ka Pinoy in year 2012 and started the website

www.maginvestkapinoy.com. The mission of the website is to encourage every Filipino to learn how to Save, Invest their money and plan their Retirement.